Monadnock Beekeepers Association
Dedicated to Promoting Beekeeping in the Monadnock Region of New Hampshire
Next MBA Meeting, February 2, 2023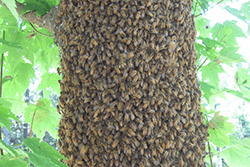 The Monadnock Beekeepers Association is a beekeeping club for both beginning and experienced beekeepers in the Monadnock and Connecticut River Valley regions. We hold meetings once a month, in-person and virtually. Please feel free to come to a meeting or contact us if you have an interest in bees or beekeeping.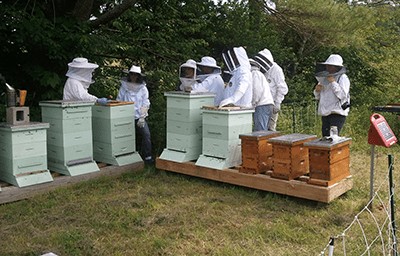 The Monadnock Beekeepers Association Bee School is a two day event that takes place in early February, followed by monthly on-site practical instruction. Bee School is open to all new and prospective beekeepers. The course fee includes textbook (Beekeeping for Dummies, 5th edition), all classes, and MBA membership.
If you missed this year's Bee School, contact us to join MBA and we may be able to set you up with an experienced beekeeper who lives near you as a mentor!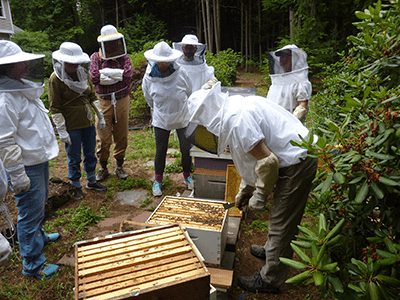 The Monadnock Beekeepers association is working toward sustainable beekeeping. By "sustainable" we mean eliminating our dependency on the importation of southern nucs, packages, and queens by promoting the local survivor genetics through nuc distribution. To be sustainable we need to use local resource management techniques to raise spring and summer nucs from our survivor colonies and our own queen production. A nucleus hive is a miniature colony with all the components of a full-size colony, including a laying queen, workers, brood at all stages of development, pollen, and honey. The benefits of a nuc are that the bees are working together to establish their colony. The queen is mated, accepted, and laying. The nucleus colony gives you about a four week head start toward getting your hive prepared for winter.
Bee School is held every February
Michael Palmer speaks to the MBA
Text about Michales' talk.
Membership Growth means more opportunities and resources for all.
The Monadnock Beekeepers Association exists because beekeepers in the Monadnock region join and contribute to the club. You don't even need to be a beekeeper to join! You just need to share our interest in these fascinating creatures.
Our dues are a modest $25 per year (January through December). Members receive first notification, early access and no/reduced cost to speakers and other opportunities.
Stay current with all the lastest MBA news. Join the mailing list here.